Traditional Rhodopean cuisine.
The traditional Rhodopean cuisine offers delicious specialties, like PATATNIK (potato-cake), BANITZA (cheese or pumpkin pastry), CHEVERME (lamb-barbecue), CACHAMAK (hominy), MOUSSAKA , MARUDNIK (a kind of pan-cake), SARMI (stuffed cabbage leaves), KATMA etc.
In the hotels of Rhodopean style all local dishes can be prepared for the visitors. The house owners themselves produce fresh cow's and sheep's milk, yogurt, white and yellow cheese, curd's and also potato, beans, butter and use these foodstuffs to make wonderful delicacies.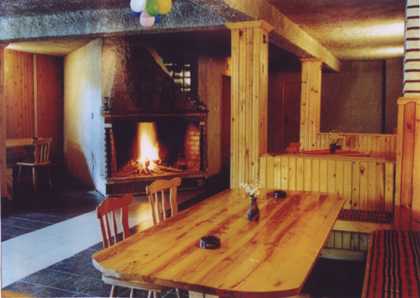 KRIS Hotel has a 50 seats restaurant, as well as "cheverme restaurant" (a national Bulgarian type of restaurant).
OFFERS
PRICES ** WINTER 2009-2010 **

1 BED FOR A NIGHT+ BREAKFAST euro 15
1 BED FOR A NIGHT+ BREAKFAST AND DINNER euro 20
1 BED FOR A NIGHT+ BREAKFAST, DINNER
AND SUPPER euro 25